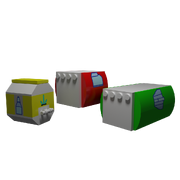 Rockets
are the means by which players travel from
world
to world. They are the first objects the player builds in the game. Almost all rockets are modular, so any combination of nose-cone, cockpit, and engine can be used to form a rocket. All rockets requires the use of a Launchpad to operate, and can be found within rocket crates or rocket vendors. 
Space Shuttle
In honor of the now-decomissioned space shuttle.
Ice Camo Rocket
Nexus Force Rocket
You can obtain this upon joining the Nexus Force.
LDD file: http://www.brickshelf.com/gallery/toatanu/LDD/novexusrocket.lxf
Rocket Ship 1
Rocket Ship 2
Rocket Ship 3
Planet-Rocket/Steam Mars flyer
This rocket is your clasic one of a kind steam punk rocket, obtainable on Steam Mars .
Ad blocker interference detected!
Wikia is a free-to-use site that makes money from advertising. We have a modified experience for viewers using ad blockers

Wikia is not accessible if you've made further modifications. Remove the custom ad blocker rule(s) and the page will load as expected.