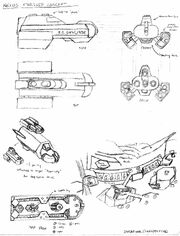 The N.S. Sky Lane is the first world in Nexus Adventures destined to take you to far away places. After being rescued you must assist the crew in getting free from the Maelstrom Generator before you can fly down to Imagination Gardens .
The Developer Door is and area on the Starship that can be access only by dev's within the game. This world introduces many of the elements within the game, such as the Rocket Build, Rockets, and the Teleporter
Backstory
The N.S. Sky Lane is a updated copy of the Venture Explorer, built for Inter-Solar System Travel. The ship was sent to Sector 9 after Nexus Tower lost contact with N.S. Victory However, as soon as it arrived, the Maelstrom Barrier Surrounding Sector 9 Closed, trapping the N.S. Skylane. The ship then was trapped in a Maelstrom Cloud, and started to be attacked by the Maelstrom Imperium. For a few days the ship fought, but was finally disabled when all weapons and engines were destroyed by the Maelstrom. After rescuing you Captain Novabeam orders you to go learn the basic's of combat, therefore starting the player's gameplay.
Read more on the N.S. Sky Lane on the Story Department page.
NPCs
Enemies
Gallery
Ad blocker interference detected!
Wikia is a free-to-use site that makes money from advertising. We have a modified experience for viewers using ad blockers

Wikia is not accessible if you've made further modifications. Remove the custom ad blocker rule(s) and the page will load as expected.