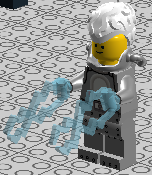 Geniuses
are members of the
Creator
faction. With a cybernetically enhanced brain and powerful electroneural hand blasts, the Genius are incredibly smart and agile.
Kits
Rank 1:
Rank 2:
Rank 3:
Gigabrain
Restores 1 imagination every 2 seconds, special causes a powerful neuroelectric pulse, damaging all enemies within range. NOTE: To raise the brain piece high enough to not cover the eyes, a stud is required to be put between the brain piece and the minifig head.
Additional Oxygen Generator
Special: Restore 10 Imagination
Neuroshockers
Damage Combo: 2+3+5
2.5 sec recharge, ranged, charge up creates a distortion in the spacetime continuum, restoring 5 imagination and pushing enemies back
Neuroshockers Offhand: Creates a energy wave that damages all enemies in front of the player, doing 5 damage
Brain Support Torso
Brain Support Pants
With Valiant Weapon:
Ad blocker interference detected!
Wikia is a free-to-use site that makes money from advertising. We have a modified experience for viewers using ad blockers

Wikia is not accessible if you've made further modifications. Remove the custom ad blocker rule(s) and the page will load as expected.