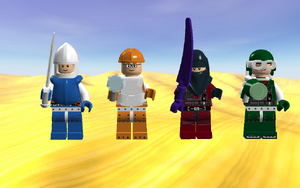 Faction Recruit Gear
is gear given to the player after they pick there
Faction
. After they pick, they are given the Recruit Gear for the Faction Missions to prove that they can join the faction. After they complete these missions, they are given Rank 1 Gear of a Specialty they want.
NOTE:Need Custom Printings for Guardian, Eclispe and Expiditioner Kits.
Kits:
A = Armor
I = Imagination
Creator Forger
Forger Helmet: 1A, 2I. Special:Allows the user to Build a Small that shoots Enemies, doing 3 damage and lasts for 10 seconds. Costs 3 Imagination.
Forger Shirt/Chestplate: 1A 1I. Special:Shoots a Small Beam of Imagination from Chestplate, causing 4 damage for 5 seconds. Costs 5 Imagination.
Forger Pants: 0A 1I.
Forger Hammer: 1A 1I. Attack:1+2+2. Special:Restore 10 Imagination over 30 seconds. Costs 2 Imagination
Forger Wrench: 0A 1I. Special:Creates a Imagination Barrier around the player, protecting the player for 10 seconds against enemies. Costs 5 Imagination.
Eclispe Spy/ Eclipse Apprentice
Guardian Swordsman
Expiditioner Parachuter. (Has a Knapsack/Parachute on the back of his torso)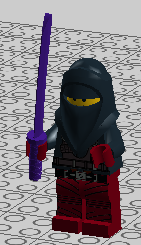 Ad blocker interference detected!
Wikia is a free-to-use site that makes money from advertising. We have a modified experience for viewers using ad blockers

Wikia is not accessible if you've made further modifications. Remove the custom ad blocker rule(s) and the page will load as expected.