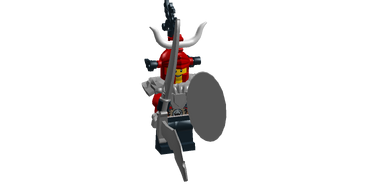 The Dragon Lord is a Non-Faction Specialty kit, based on Bat Lord from Lego Universe.
Dragon Lord
Dragon Lord's Double Blade
Damage combo: 3+4+5
Charge-up: The sword's becomes a Sword of Fire, doing 5+5+6 damage. (2 Imagination)
Dragon Lord's Helmet MKV
Headbutts enemies in front of you, doing 4 damage. (3 Imagination)
Dragon Lord's Vest of Armor
Buffs Armor and Imagination by 4 for 1 minute. (3 Imagination)
Dragon Lord's Reflecting Shield
[Hold on] Reflects damage on enemies by 1/2 damage done by enemies. (1 Imagination every 3 seconds)
Dragon Lord's Armor
Dragon Lord's Leggings
Total Stat Increase
Here are picture of my Dragon Lord Kit.
Ad blocker interference detected!
Wikia is a free-to-use site that makes money from advertising. We have a modified experience for viewers using ad blockers

Wikia is not accessible if you've made further modifications. Remove the custom ad blocker rule(s) and the page will load as expected.