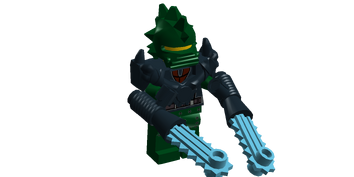 Brawler is a specialty for The Expeditioners.
Brawler
The Bone Slicers
Damage Combo: +5+4+3 (slowly)
Charge-up: Swings players 360 degrees, doing 4 damage (costs 3 Imagination)
Offhand: The player jumps in the air, and puts the chainsaws underneath themselves, charging down dealing massive damage to enemies directly below
Brawler's Slizer Helm
Does a Headbutt,doing 5 damage(3 Imagination)
Brawler's Shirt
Brawler's Pants
Brawler's Shoulderpads
Launches forward, doing 4 damage and knocks down the enemy you strike.(3 Imagination)
4-Piece Bonus
5-Piece Bonus
Total Stat Increase
Valiant:
Titanium Slicer:Does a 3+4+5 damage combo, with a powerful slice that does 5 damage when charged up. Offhand fires a bolt of imagination, doing 5 damage.
Ad blocker interference detected!
Wikia is a free-to-use site that makes money from advertising. We have a modified experience for viewers using ad blockers

Wikia is not accessible if you've made further modifications. Remove the custom ad blocker rule(s) and the page will load as expected.