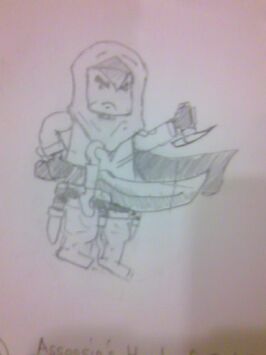 Assassin is a non-faction specialty.This specialty is special, having 6 skill slots bacause of the leggings.
Assassin
Assassin's Scimitar and Hidden Blade (Two-Handed)
Damage Combo: +2+2+3
Offhand Skill: Run and stabs an opponent at high speed ,doing 4 damage. (uses 3 imagination)
Charge-up: Does a critical strike, doing 3 damage to opponents in front of you. (uses 4 imagination)
+2 Armor
Assassin's Hood of Invisibility
Be invisible for 15 seconds.(5 imagination)
+3 Armor
+3 Imagination
Assassin's Attire
+1 Health
+1 Armor
+1 Imagination
Assassin's Leggings
Throws a knife to an opponent,doing 2 damage.(1 imagination)
+1 Health
+2 Armor
+5 Imagination
Add a skill slot when equipped.
Assassin's Cape
Hold-on: Makes you walk slowly, making enemies harder to detect you.(uses 1 imagination every 3 seconds)
+1 Health
+2 Armor
+2 Imagination
4-Piece Bonus
+1 Heart
+2 Armor
+2 Imagination
5-Piece Bonus
+1 Health
+3 Armor
+2 Imagination
Total Stat Increase
+3 Health
+12 Armor
+13 Imagination
Alternate Cyberplexus Version
Ad blocker interference detected!
Wikia is a free-to-use site that makes money from advertising. We have a modified experience for viewers using ad blockers

Wikia is not accessible if you've made further modifications. Remove the custom ad blocker rule(s) and the page will load as expected.